6 July 2015
In which we use Brian Catling's The Vorrh as an excuse to post some great pictures from Sir John Mandeville's travels
Posted by the Bookshop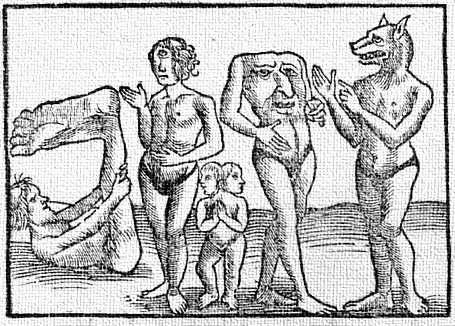 ---
'Herodotus and Sir John Mandeville had already written of the unthinkable: "the anthropophagi" and "men whose heads do grow beneath their shoulders." Beings such as they would thrive in this environment, where evolution was robbed of memory, hope and purpose, and distortion was not ironed out by the Darwinian uniformity of blind greed.'
We're welcoming author, performance poet and visual artist Brian Catling to the Bookshop this Thursday to discuss his 'bold, shaggy, and surprising' novel, The Vorrh, with Iain Sinclair. The book is home to a 'teeming conceptual ecosystem', writes Jason Heller at NPR, 'that gobbles up history, geography, mythology and fantasy, then delicately chews it into a rarified pulp.'
One of the many influences upon the book is The Travels of Sir John Mandeville, a crackpot travelogue which featured on the bestseller list of many a medieval bookshop. Without further ado, some medieval illustrations.
The aforementioned men whose heads do grow beneath their shoulders:
A frustrated sciapod:
A cotton plant, which according to Sir John 'bore tiny lambs on the endes of its branches':
And what appears to be an early Dr Seuss illustration:
In Alan Moore's introduction to The Vorrh (which you can listen to him read here), he praises Catling's 'lurid and profound mosaic' of the factual and the fantastic, which is thoroughly in keeping with Mandeville's suppositious journeys. 'With The Vorrh', he writes', 'we are presented with a sprawling immaterial organism which leaves the reader filthy with its seeds and spores, encouraging new growth and threatening a great reforesting of the imagination.'
Book tickets to see Brain Catling in conversation with Iain Sinclair here.
---