24 February 2016
Some Raptors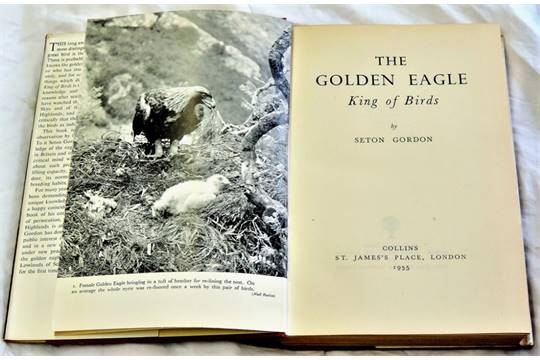 ---
The great Scottish naturalist Seton Gordon took his first photograph of a golden eagle eyrie, astonishingly, in April 1904, when he would have been 18 years old. He describes the incident in his 1955 book The Golden Eagle: King of Birds, one of the 30 or so books he wrote about the life, folklore and wildlife of the Highlands and Islands:
At this time I was the owner of a motor bicycle with a trailer, so my friend and I were able to transport the large half-plate camera which I then used, along the estate road to the neighbourhood of the eagle's tree. The first branch of this tree begins about twelve feet from ground level, but the stalker had brought with him a short ladder. When I had climbed the ladder, he lifted it (with me on it) and held it against his chest, and thus I was able to reach the first branch. It was an exciting moment when at length I arrived at the eyrie and looked into the great nest with its crown of living fir branches. On a lining of great woodrush (Luzula sylvatica) two large round eggs were resting. They were blotched and spotted with rusty red, one of the eggs being more heavily marked than the other, as I have since found to be the unvaried rule. I had before this watched golden eagles on Mount Keen and Morven, but this was my first sight of an occupied eyrie.
We don't see many birds of prey here in Bloomsbury – the occasional kestrel flies by to frighten the pigeons, and I once saw what might have been a migrating osprey high above the courtyard – so high that it might just as easily have been an errant buzzard or red kite. All the same, Seton Gordon has long been one of my favourite writers, and his beloved golden eagle one of my favourite birds.
So it's a great pleasure, and an honour, to have James Macdonald Lockhart present his new book Raptor at the shop next month. As well as being a literary agent and associate editor of the exemplary journal Archipelago, Lockhart is a very fine nature writer, and, not entirely coincidentally, the great-grandson of the great Seton Gordon himself. He'll be in conversation with Tim Dee, another star of 'the new nature writing.' We can't promise you raptors, but we can promise you a fascinating evening.
James Macdonald Lockhart discusses Raptor with Tim Dee at the Bookshop on Thursday 3 March. Book tickets here
---