2 November 2016
Bee Wilson: Greatest Hits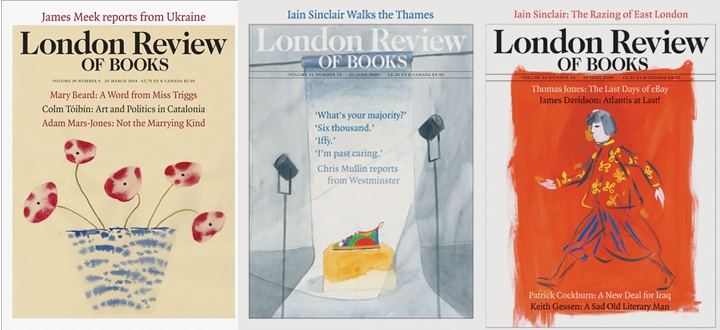 ---
Ahead of our event with Bee Wilson and Miranda Carter next Thursday, we've taken a look at Bee Wilson's contributions to the London Review of Books over the last ten years. A food writer, journalist and historian, Wilson's pieces for the LRB includes reviews of biographies, historical works and novels. Many of her pieces revolve around food; she is also the author of five books on the topic of food, and her most recent book, First Bite: How We Learn to Eat, won the Special Commendation Award at the Andre Simon Food and Drink Awards.
Read on to learn about this fascinating writer and what she continues to offer the world of criticism, or come and see her in person on Thursday 10 November.
An unflinching look at the meat industry, this review of Farmageddon: The True Cost of Cheap Meat will give even the most dedicated carnivore a moment of pause and will force liberal meat eaters to confront their own hypocrisies.
"Vegetarians, we say, are self-righteous and humourless; or fussy and weird; or like Hitler; we say that their diet makes them anaemic; that having to cater for them ruins every dinner party; that they are crazy not to eat bacon/lamb shanks/pepperoni because we evolved as hunter-gatherers; that their food smells horrible, and by implication, so do they."
A witty take on a murder mystery novel, Wilson pokes gentle fun with her use of the genre's tropes: "Guilt spreads, like blood". This engagement with crime fiction places her in prime position to discuss the historical fiction of Miranda Carter.
"As Summerscale takes us deeper into the strange family life of the Kents and the aftermath of 1860, it becomes clear that rather than a household providing clues to a murder, a murder gives us clues to a household. We get sudden glimpses, both mundane (of whisky and water or black silk dresses) and extraordinary: 'sexual transgression, emotional cruelty, scheming servants, wayward children, insanity, jealousy, loneliness and loathing'. As in The Moonstone, we obsessively revisit a single day from different angles. But there is no absolution. Guilt spreads, like blood."
This review discusses cooking in Mesopotamia, illustrating Wilson's credos not only as a food and cultural critic but also as a respected historian, as she talks us through the difficulties of writing about such ancient society with authority.
"If Athenaeus, who lived 1800 years ago, couldn't, how much less equipped are we to answer questions about the way the first cooks cooked? How can we know what people ate in the past? It is hard enough to re-create a meal we had last Tuesday"
This review of Jonathan Meades' autobiography An Encyclopedia of Myself looks at the book as a story in itself before analysing the intricacies of Meades' life. Through Wilson's writing you appreciate the details of 1950s life, without a hint of nostalgia.
"Jonathan Meades is a writer who understands the power of lists. In An Encyclopedia of Myself, he has written not so much an autobiography as a series of detailed inventories of English provincial life in the 1950s – a world of sadistic army majors and 'disgusting pork sausages', anxious politeness and Tudorbethan houses, the Cold War and cathedral spires."
Bee Wilson will be in the shop for our event with LRB contributor Miranda Carter on Thursday 10 December. They will be discussing Carter's new book The Devil's Feast a historical novel which explores the life of Alexis Soyer, a 19th century Frenchman who became the world's first celebrity chef. Book now.
---