29 November 2016
Rubies in the Rubble
Posted by the Cake Shop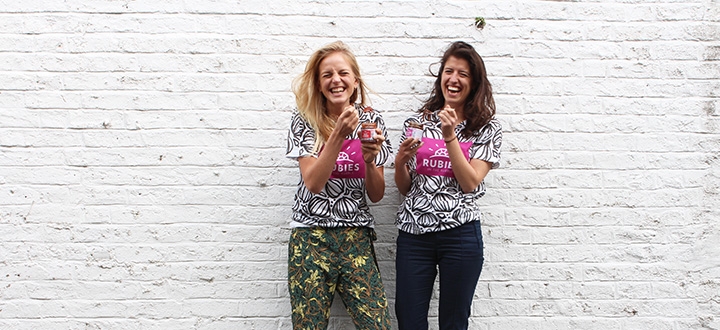 ---
Rubies in the Rubble is a fantastic new company that makes preserves from fruit and vegetables that would otherwise be thrown away by supermarkets. We chatted to their CEO Jenny Dawson about the inspiration behind her pickles and how she hopes Rubies in the Rubble will change the way we think about food waste.
We served Rubies in the Rubble chutneys at our pickle competition, and we'll be enjoying them with cheese at our Late Shopping evenings in December. Book now to sample their delicious chutneys while relishing a 10% discount on books, or read on to learn more about this company and the great work that they do.
How do you see the work of Rubies in the Rubble making an impact?
Through our products we hope to raise awareness about food waste and the need to value our food supply. So much food is thrown away, either by supermarkets on a massive scale, or by individuals who don't plan their meals. Preserving is a great way of cutting down food waste at home – it is the old-fashioned way of enjoying fruit and veg out of season. You'll be amazed how much satisfaction you can get from seeing your jars neatly lined up ready to enjoy another day.
Where do you get the inspiration for your pickles?
I'm currently reading Pickled by Freddie Janssen – it's a book full of fun, accessible ideas for pickling at home. But most of our ideas come from trying new combinations of foods. Recently we've been playing with a BBQ sauce made from blueberries – which is divine!
I love looking through cook books for colour and creativity. I remember reading Ottolenghi: The Cookbook when it first came out and being inspired. Delia Smith's books were key to a lot of my essential cooking knowledge – a white sauce, sponge cake, gravy or jelly. When it comes to chutney making, however, my mum was the queen.
Do you have any childhood memories associated with pickles or preserves?
As a child there wasn't a month in the year that our larder didn't have a shelf full of chutney in it – my mum's rhubarb chutney was definitely the favourite! My mum was a prolific preserver, and this has had a massive impact on my interest.
Growing up on the south-west coast of Scotland provided a plethora of lovely (if breezy) lunch spots. Come summer holidays, rain or shine, almost every day involved a picnic. It is almost laughable some of the conditions we have endured for our love of picnics. With our baskets full of soup, salad, sandwiches and quiche, there was always an array of chutneys to be had. It is since then that I've loved pickling and preserving. Nowadays I'm a bit of a condiment crackpot and obsessed with their ability to spice up any dish!
What's your favourite thing to eat with pickles?
I love pickles alongside a good salad, or with scrambled eggs on toast. Pickles are also great with anything creamy or rich so they always come out whenever I have cheese or quiche. A new favourite brunch for me is a tangy pickle on avocado on toast.
What's your favourite type of pickle?
I love spice so probably a fresh and spicy tomato pickle. Recently I've become obsessed with green tomatoes pickled in olive oil, vinegar, dill and mustard seeds. Simple but full of flavour.
What is the most popular chutney?
Our Spicy Tomato and Pink Onion and Chilli relish are probably neck and neck in popularity – I think because they're both very versatile and have a little kick of heat.
If you want to read more about their great work and the pickles that Rubies in the Rubble produce, visit their website. You can sample their relishes at our Late Shopping evenings all through December, or purchase them in the Cake Shop.
---