13 September 2018
Poetry Pamphlet Picks Part 2
Posted by Lily Blacksell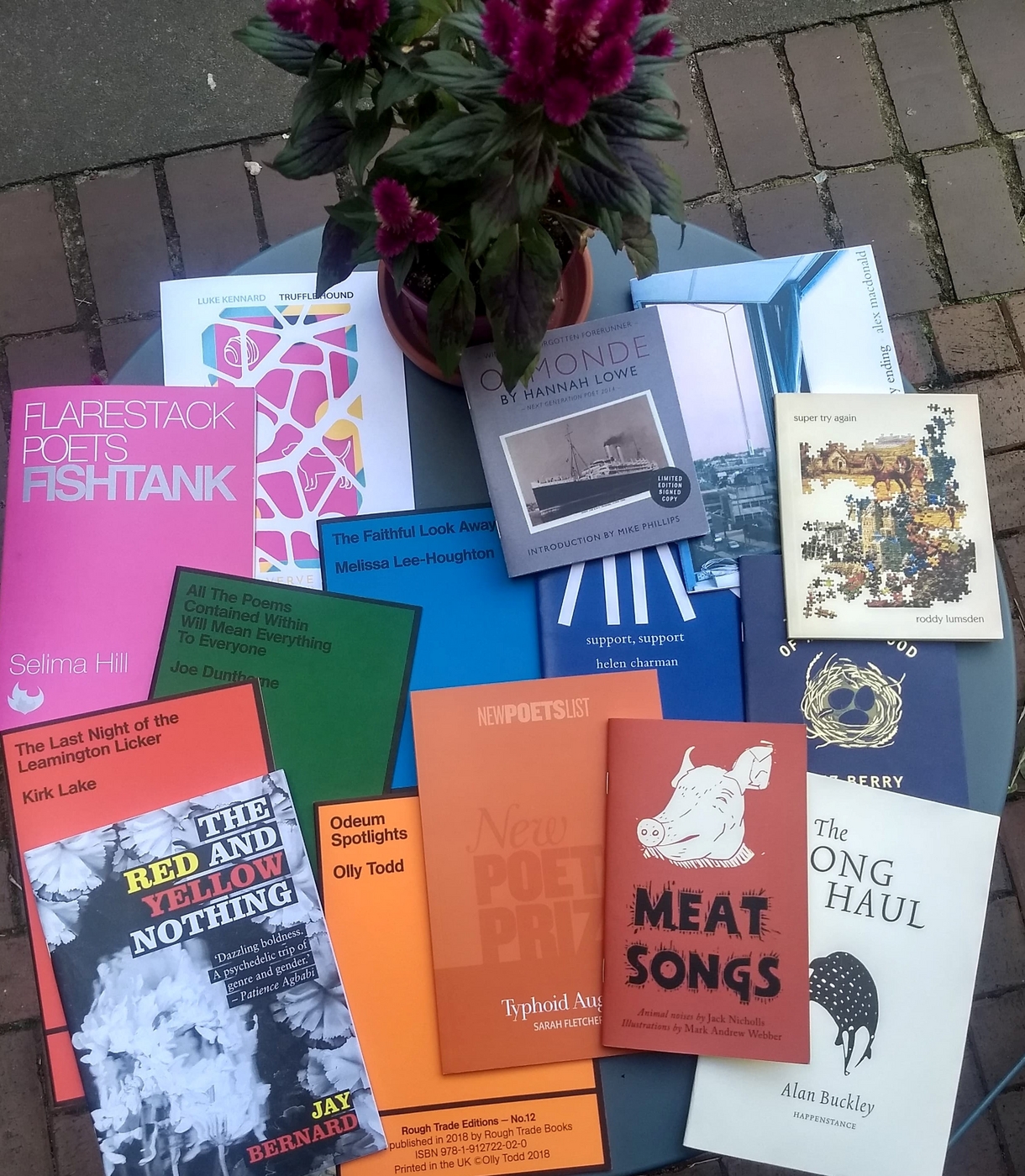 ---
Alright! I admit it, I've been looking for an excuse to do another one of these ever since my first round-up of pamphlet picks way back whenever it was. Opportunity came knocking and when I opened the door, I found Truffle Hound by Luke Kennard (Verve Poetry Press), looking better than a pamphlet has a right to. Without further ado, except stopping for a dark chocolate Digestive in the kitchen, I scurried down to the poetry section to gather up the other pamphlets that had been on my mind. The moment had arrived. (EDITOR'S NOTE: Gayle is on holiday and none of us know how to resize pictures, so please forgive all these pictures being slightly different sizes and all left-justified. If anyone knows how to work codegent please contact us on books@lrbshop.co.uk - there may be dark choc digestives in it for you. JC)
I find that many of the world's best poets have surnames beginning with B. It's just science and that's that. I therefore scooped up three pamphlets by writers in this gang: The Red and Yellow Nothing by Jay Bernard (published in 2014 by Ink Sweat & Tears. Amazing and bizarre, and absolutely essential reading if you want to get really excited about Jay's collection forthcoming from Chatto in 2019), The Republic of Motherhood by Liz Berry (blue and gold and very very tender), The Long Haul by Alan Buckley ('Psychotherapy' and 'Gravity' are two of my favourite poems in this pamphlet - themes of trust, wonder, trickery etc).
Meat Songs by Jack Nicholls was the next to be grabbed, entirely un-alphabetically. Published by the Emma Press in 2017 it hosts some excellent poetry (or 'animal noises') and illustrations. The more I read this pamphlet, the more I like this pamphlet. I've read it a lot.
Joining it in my embrace soon after was Ormonde by Hannah Lowe (Hercules Editions). This is a beautiful little book that combines poetry and archive material to tell us about the forgotten forerunner of Empire Windrush, an ex-troopship called Ormonde. One of the passengers on board was Hannah's father. Here is personal, cultural history, and imagination, and poetry, and I don't know what else you could want in 35 pages.
Just along the shelf from Lowe is Lumsden. So Glad I'm Me (with that Sandy Denny photo on the cover!!!) is one of my favourite poetry books of the last year, but we're here to talk (and talk and talk) about pamphlets, so it was Roddy's Donut Press title super try again that I went for. I love Joanna Newsom epigraph and I love the poem 'Jackpot'. The book wears its intertextuality on its sleeve, or rather in the Notes section, where Lumsden lists the phrases/ songs/ quotes/ jumping-off points which the poems started from. Poetry is blooming well everywhere if you look and listen out for it. Here is proof.
'Gee wizz I'm lucky to work in this shop,' I thought, drooling slightly and greedily clutching at the next title on my list, the hot pink Flarestack Fishtank by Selima Hill, whose face will be on coins in the near future, just as soon as the Royal Mint have had time to read/reply to my letters. As Wayne Holloway-Smith puts it in his blurb, 'She is one of the greats, and her influence endures.'
If you like your pamphlets like you like your armies, tiles and pots, terracotta, then Sarah Fletcher's Typhoid August is a fine choice. Sarah is a New Poets Prize winner, so you can rest assured that these are prize-winning poems you are purchasing, but, as Andrew McMillan tells us 'These poems never allow the reader to rest easy, they ask us to interrogate our most shameful thoughts, and through witty surrealism ask us to look afresh at everyday encounters.' Assured but not easy, ok? Good.
Weighed down with paper and in need of a moment to rest easy, I came upon a chair in the poetry section, only to see it was absolutely 100% festooned with pamphlets from Rough Trade Books. These are great, the whole lot of them. I grabbed All the Poems Contained Within Will Mean Everything to Everyone by Joe Dunthorne, I grabbed Odeum Spotlights by Olly Todd, I grabbed The Last Night of the Leamington Licker by Kirk Lake, I tried to grab Pessimism is for Lightweights by Salena Godden but we've sold out, and then I grabbed The Faithful Look Away by Melissa Lee-Houghton, which got me thinking about her Offord Road Books poetry pamphlet, Cumshot in D-Minor, which got me thinking about those two new Offord Road Books pamphlets that hit the shelves in August, Support, support by Helen Charman (intelligent, clever, enviable, lovable) and and Knowing This Has Changed My Ending by Alex Macdonald (joyful AND mournful, Very! Good! Titles!).
I surveyed the publications on my lap and decided I'd better call it a day, otherwise I was going to have a 750 word blog on my hands, and no one wants to read that. With pamphlets forthcoming from the likes of ignitionpress, Sad Press and Test Centre, it's only a matter of time before my next mad dash around the poetry section. Come and fill your boots with these titles in the meantime.
---