7 November 2016
The Hill Baker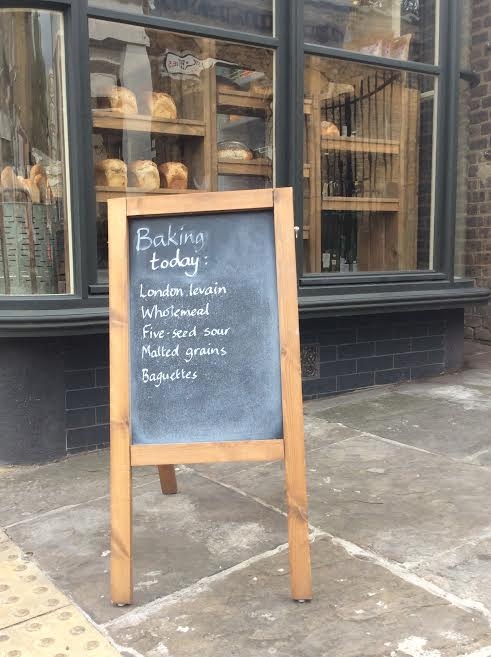 ---
EVENT: The third London Review Cake Shop Pickle Competition will take place on the 13 November. Book tickets here.
Turning off Camberwell High Street into Grove Lane, I always feel like I've stepped into a gentler era. I can see Adam in his well-worn woollen jumper, standing by the front window with a rolled-up cigarette and a cup of tea. Here at the Hill Bakery he makes the kind of bread that brings joy and reassurance to my heart. Seeded sourdough, London levain, campaillou, rye. The bread is made with the same sourdough starter he's been using for the last 20 years.
Adam describes his career as 'chequered'. For years he worked in and around publishing. While working at the Independent on Sunday, his small team developed a late-night food ritual: once they'd scrambled to meet the deadline, someone would open a bottle of wine. Another person would bring cheese, and Adam would break out the bread he'd baked that day.
When Adam was growing up in Jersey, baking was a weekly celebration too. On Sundays his Dad would make brown bread rolls which they'd eat hot out of the oven with butter. There's no way that bread straight out of the oven can be bad for you – that's Adam's credo, and it's one you can't argue with after spending some time in the bakery with him.
I was lucky enough to do just that earlier this year. At a party one night I'd asked Adam if I could come work with him to brush up on my bread-baking, and he was gracious enough not to look surprised when I turned up on his doorstep a few months later. Baking in the afternoons in his congenial presence, Radio 4 playing in the background, it was easy to feel that this was part of a beautiful English tradition, something humble and understated: a tradition of cottage industry, of process and simplicity, of giving things the time they need.
You can try cider bread from the Hill Bakery at this year's Pickle Competition, where I'll be using it as part of our menu of fermented delights. Or, visit Adam yourself at the bakery at 4a Grove Lane.
---